Radishes are a wealth of health. Loaded with vitamin C, especially there greens.
This little guys are part of the cruciferous family and contain cancer protective properties as well as detoxifying properties to remove toxins, viruses and parasites. Also adding these to your diet will help your digestion and help to maintain a healthy gallbladder and liver.
Last nite I made a yummy fresh radish salad. It's super easy and you can whip it up in minutes.
1 bunch of radishes, sliced
cilantro, chopped (optional)
lemon juice
salt and pepper
I paired it with a grilled chicken kabob.
This meal speaks summer to me.
I hope you like the radish salad and I would lo hear your feedback.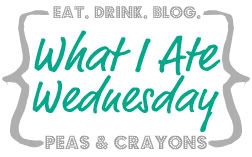 This is my first time in joining the WIAW movement. Join me in celebrating and sharing.